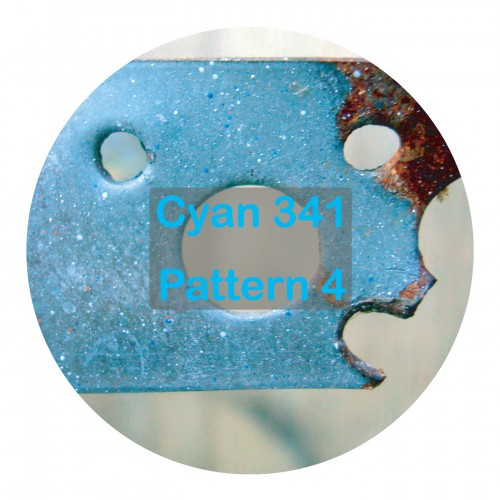 Listen
Buy
Cat
UNCHDUB2
Format
Ultra-limited 10″
Tracks
Pattern 4 (Version 4.1)
Pattern 4 (LJ Kruzer remix)
Press release
Five years on from Volume 1, Uncharted Audio unleash another twisted take on dancefloor dynamics – the continuing saga of the Dub Plate Sessions!
Cyan341 is a London-based producer of deep Detroit-inspired techno. He also runs the critically acclaimed Rednetic Recordings and releases music under the Zainetica alias. His sound is a weaving together of Berlin techno minimalism and the deeper, funkier Detroit techno of acts such as Anthony Shakir, Mark Kinchin, Scott Kinchin and the more well known techno triumvirate. He has recently released EP's for Smallfish, Kreislauf and Rednetic as well as appearing on volume 5 of Uncharted Audio's "Signals" series, alongside such UK electronica luminaries as Si Begg, Neil Landstrumm and Plaid.
Here he supplies a hypnotic and dubby slice of mechanized tech that would be at home on floors either side of the Atlantic, whilst on the flip LJ Kruzer (critically acclaimed by everyone from Mary Anne Hobbs to Plaid to Mixmaster Morris) drops a deep and melodic remix, featuring drum sounds run through the Panasonic amplifier bequeathed to him by his Great Auntie Margaret (sadly recently deceased).
Reviews
"Pattern 4" is a slick full bodied slice of nocturnal smoochiness that should by rights be doing sizeable swoon like damage on the coolest and more informed club floors near you pretty soon. Flip over for some sublimely layered slices of sophisticated minimalist groove from the in demand resources of LJ Kruzer.
(Review by Losing Today)
"Quite a classic euro-dub sound with a twist. Love the groove. Remix is crispy!"
(Review by Dub Kult)
"Really fantastic… really like the LJ Kruzer remix."
(Review by John Tejada, Palette Recordings)
"Nice driving dub track with surprising but cautious chord shift that makes it stand out from the mass of the new dub stuff out there… remix reminds me of the time when I lived in England about 8 years ago: Nottingham, Manchester, Sheffield. I get goose bumps when I hear it."
(Review by Benjamin Brunn)
"An effortlessly pulsing, cleverly smeared working of the rich seam of dubby post-techno, […] respectfully in the Basic Channel lineage – to the extent of having its own decimal-placed version (4.1)."
(Review by Lend Me Your Ears)