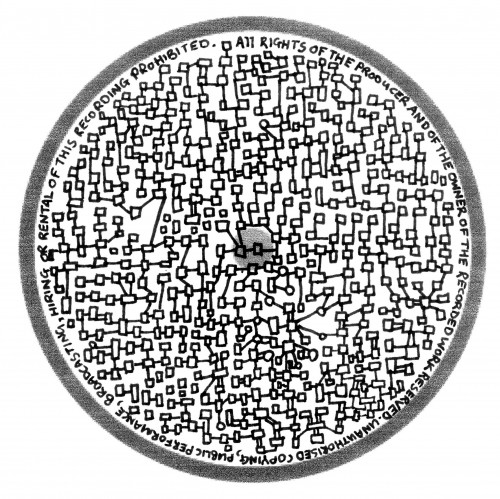 Listen
Buy
Cat
UNCH010
Format
7″
Tracks
A Snowstorm in a Globe
Observe the Mechanics
Press release
Brighton-born, Dutch-raised, Nottingham-based Neil Wells spins out glowing lo-fi electro love songs touched equally by the hands of folk and gabba, but don't dare tar him with either of those brushes.
Those in the know could already have encountered Neil in one of his other guises, as he has fingers in many indie pies – multi-instrumentalist in Seachange (Matador); bassist and cornet player in the fantastic Savoy Grand (Glitterhouse); contributor of bass and vocals to Escapologists. How does he find the time to write, produce, record and perform on his own, as Line, on top of all this? Frankly, we'd rather not know.
Last year Line contributed the closing track to the London Electrics compilation CD, drawing praise from all corners including airplay on Radio 1. The stage was set.
'A Snowstorm In A Globe', is a dark slice of vocal electro shot through with paranoid murmurings, synth stabs and waves of bass – Drexciya meets Joy Division via a transistor radio and a huge rave soundsystem. The b-side 'Observe The Mechanics' is an edit-heavy distorted electro-house tune about the merits of performance. This 7″ is a taster for the forthcoming full-length 'Tech Hits' which will appear on Uncharted Audio later this year.
Reviews
"Uncharted don't release much, but when they do it's often a goodie. This single from Line is fun, funky and Electro-Pop inspired to the max. They seem to do this sort of stuff without being too cheesey, which is what I like and, although this has vocals, it's never crosses the Line (Ha-ha!). The flipside features a great 4/4 track with a squidgy acid line that's very groovy. File next to Cursor Miner and you can't go wrong."
(Review by Smallfish)
"Straight outta Sherwood Forest, this flash of dark electro comes courtesy of Nottingham lad Line, whose mumbled take on synth-shrouded digital music is oddly appealing whilst seemingly doing very little. Newly signed to the Uncharted imprint, Line evidently has a Depeche Mode affliction – with A-side 'A Snowstorm In A Globe' borrowing the sunglasses-at-night menace that bruises the Mode's darker work before mingling it with the kind of detachment normally associated with Colder. Buttressed by icy synths and rumbling bass emissions, 'A Snowstorm In A Globe' is backed by the equally appealing 'Observe The Mechanics', wherein edits are liberally applied to coax out a reclined take on electro-house that does the trick with minimum fuss. Walk the line!"
(Review by Boomkat)
"'Observe The Mechanics', the flip, is a pacey tech-ey 'lectro number with a Casiotone For The Painfully Alone style distorted vocal that I had fun slowing down to 33. The tune is really cool as far as I'm concerned with a poignant Lali Puna-esque synthline over a frantic digital break that nearly runs away from the rest of the tune in it's haste. Uncle Ant says he's thinking Cylob. Dunno how I could possibly ignore this record even though the A side sucks. Gotta have one of these."
(Review by Norman Records)
"I love it! The Stowstorm in a Globe track is a belter…great sounds/production. Really nice. I'll be playing it to death for the next few months and charting it…. keep em comin!! ;)"
(Review by Fil OK, Nag Nag Nag)
"Modern day Gary Numan, Neil Wells, returns to the electro fold with a cheeky 7″ on Uncharted Audio. Over metronomic drums and squelchy bass bleeps, Wells mumbles a distorted phuturist prayer… or something. Anyway whatever he's saying the end result should find favour with both electronica fans and those with edgy haircuts."
(Review by One Week To Live)
"On his Uncharted Audio 7-inch debut, Nottingham-based Neil Wells distills elements of Depeche Mode, Gary Numan, Drexciya, and Joy Division into two enticing examples of bubbly electro-pop. A subtle hint of paranoia haunts Wells's distorted murmurs on the A-side's "A Snowstorm in a Globe," with the bright bleep of its electro theme offsetting the subliminal strain of gabba pulsating beneath the song's rapid skitter. The B-side's "Observe the Mechanics" is an equally sweet slice of strutting electropop with the distortion largely lifted from Wells' relaxed croon. Over too soon, the disc's a promising teaser for Tech Hits, the full-length scheduled to appear on Uncharted Audio later this year."
(Review by Textura)
"Neil Wells is far from a newcomer to music, what with his past inclusion as a multi-instrumentalist in Seachange, adding bass for Savoy Grand as well as his contribution of vocals and bass to Escapologists. Now Wells returns as Line, a skewed artist who breeds sinister digital pop.

Both A Snowstorm In A Globe and Observe The Mechanics are dark electronic pop tracks, with electro beats and distorted vocals which sound like they are being broadcast through a detuned radio. The bass lines are deep, synths are warm and the drums are shuddering.

What's interesting in particular about these two tracks, are the juxtapozing styles which Line's melted together to form awesome results. The electronic side of things introduces electro and house, yet the vocals suggest elements of post punk and new wave.

A brilliant single which has some interesting combinations and cross-breeding, as well as quality songwriting. The album Tech Hits which is out later in 2006, could well be one of the breakthrough releases of the year."
(Review by Andy Harrison, AngryApe)