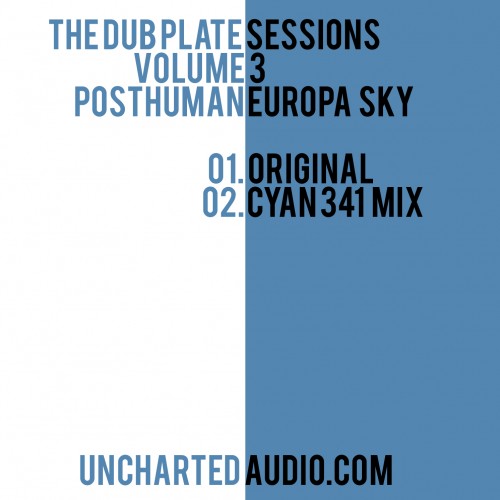 Listen
Buy
Info
Posthuman follow up critically acclaimed releases for the likes of B12, Skam, Handsette, Seed and a host of other labels with this revelatory voyage deep into the unknown, which connects their early electronica work with their current penchant for the classic UK techno sound.
Backed with a firing remix from up and coming UK producer Cyan341 who has already been picking up props from the likes of Move D, Benjamin Brunn and James Zabiela, this 3rd release in Uncharted Audio's 'Dub Plate Sessions' series of 10″ singles brings the series to a neat conclusion, with all three featured artists (Posthuman, Cyan341 and LJ Kruzer) contributing an original track and a remix.
Due for release 01/02/2010, Europa Sky is already garnering DJ support from the likes of Laurent Garnier, Orde Meikle (Slam), Chris Coco, Fabrice Lig, DJ Snoop (Sao Paulo, Brazil), Gregor Tresher and Semtek (Don't Be Afraid/Lostbahnhoff). Make use of our direct mail order for the 10″ and recieve an instant, free digital copy of the release.
Reviews
"So languid it's asleep, 'Europa Sky' harks back to a time when the line between ambience and techno was pleasantly thin – think classic B12 and Black Dog. Cyan341's remix refreshes the palette with dubby washes and micro/minimal percussion, before sailing over deep house territory and techier edges with ease. Proper good."
(Review from Clash Magazine)
"Skam alumni Posthuman are in gloriously lush retro form on the last in Uncharted Audio's excellent Dubplate Sessions series: `Europa Sky' is a fine example of music written according to the classic UK techno template. Weaving a UFO-sighting spoken word sample throughout the track – heavily reminiscent of the Rendlesham Forest Incident sample used by Photek on 1995's 'UFO' -`Europa Sky' zeroes in on that uncanny zone, physically galvanising and soporifically mesmerising all at once, that so many good techno records seem to locate.

Indeed, the pads here are so lulling that it's easy to miss at first how forceful the bass is, a two-note pulse that lends what might otherwise have been a dreamily aimless track some sturdy forward momentum. UK Detroit devotee Cyan341 contributes an excellent remix, carving out a little more space at the track's core and toughening the bassline into a sturdy DJ tool. There's also an Echaskech remix floating around somewhere which, while not included here, is well worth hearing for the way in which it cuts through the original's detailed atmoshperics in favour of a clean, gut-shaking kick and precipitous bass drops. Not clever, but undeniably big.".
(Review by Chris Power, Drowned In Sound)